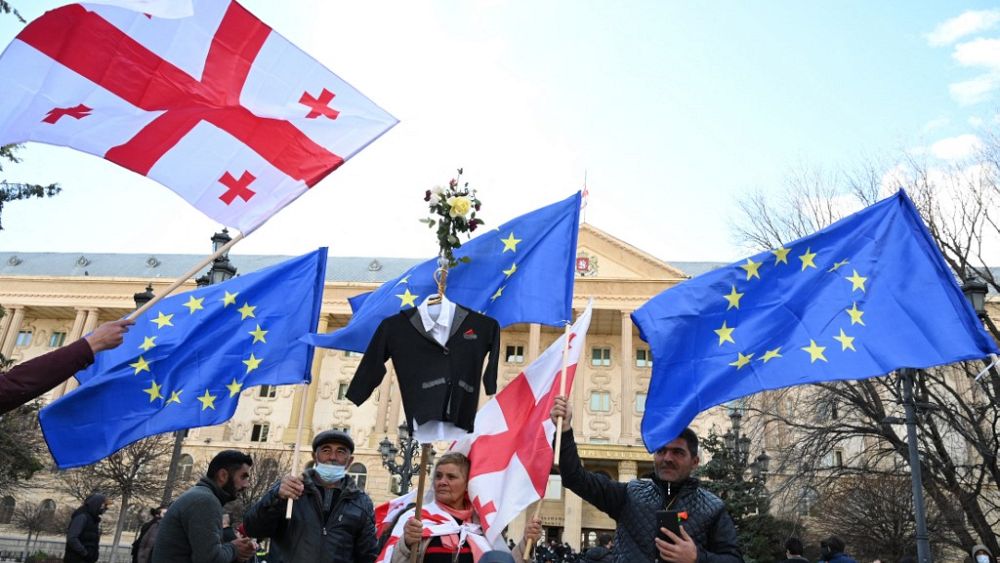 A proposed 'foreign agent' law in Georgia has been widely condemned by civil society, the media and EU member states, and compared to similar legislation already imposed by the Kremlin in Russia. 
The new law, currently being pushed through parliament in Tblisi, would make all non-governmental organisations (NGOs) and media outlets that receive more than 20% of their funding from abroad register as 'agents of foreign influence' and report their revenue.
Concerns have been raised it will have "dangerous implications" and harm Georgia's EU accession process. However, supporters claim the changes are necessary to improve transparency. 
Harold Chambers, an analyst of Georgian politics, told Euronews: The new law "threatens the fall of Georgian democracy by attempting to expunge independent civil society and media."
"Georgia's robust civil society and independent media are highly admirable for their persistence in holding the government accountable," he added. 
Organisations which refuse to register as "foreign agents" would be slapped with hefty fines under the proposed legislation — labelled as "Russian-style" — while heads of those organisations could land five years in prison.
"We believe that the goal of this law is to stop critical voices from being heard," said a group of media outlets in Georgia on Monday. "Media and public organisations cannot reflect corruption, injustice and poverty in the country."
The 64 organisations, reporting in Georgian, English and Russian, vowed to resist the law, if it is adopted.
"We serve the public and care about the future of our country," read their joint statement released on Monday."If the Russian law is enacted, we will refuse to register as "agents of foreign influence".
"It offends our professional dignity."
The group cited the example of Russia, where a similar law led to the closure of civil and media organisations and made journalists "victims of persecution". 
Adopted in 2012 following protests against Vladimir Putin's return to the presidency, it has since been tightened amid the Ukraine war. 
"The danger here is that the current draft could already be interpreted in different ways, and in the future, it will almost certainly be made much stricter as was the case in Russia," said Mariam Nikuradze, Director of OC Media, an independent Georgian outlet. 
She continued: "The main argument the authors of the law have is about transparency — that society has a right to know how organisations are funded. But the organisations they are targeting, including OC Media, are quite transparent about who we receive funding from."
EU officials have also condemned the proposed law. 
On Saturday, Norway criticised it as being "against Georgian people's steadfast European aspirations and international human rights obligations."
The EU member state, which funds extensive projects in Georgia focusing on gender equality, said the adoption of the law could harm bilateral cooperation between the two countries. 
Norwegian investors are also involved in Georgia's green energy, transport and shipping industries. 
Ulrik Tideström, Swedish Ambassador to Georgia, said the law "is inconsistent with EU norms and values, and with Georgia's EU aspirations."
"Civil society and free media are at the core of democracy, development and EU integration," he added. 
The draft law was introduced to parliament on 14 February by 'People's Power', a party of anti-Western MPs who are part of Georgia's ruling majority. 
They have the support of the ruling Georgian Dream party. 
Analyst Chambers told Euronews the law was being pushed through under the "guise of ridding Georgia from external interference in domestic politics, ignoring that one: the federal government is the largest recipient of foreign funding… and two: some Georgian Dream members have ties to Russia that under their own law should make them foreign agents."
Last week, People's Power announced they would table a second version of the controversial bill, amid a wave of criticism. 
On Monday, both parties in the ruling majority pledged to run the law pasted the European Commission before the final reading in late June.