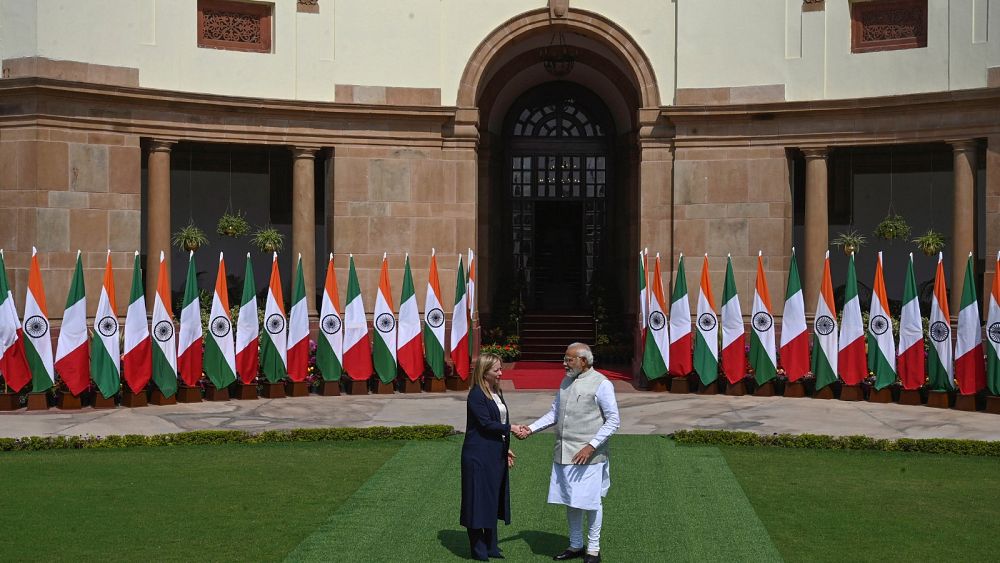 Italian Prime Minister Giorgia Meloni urged India on to play a central role in facilitating negotiations to end Russia's war against Ukraine..
She condemned the Russian invasion of Ukraine and underscored its adverse impact on developing countries in terms of food and energy security. 
"We can't sit idly in the face of this provocation to the heart of the UN charter which threatens to undermine civility across the globe," she said in a speech at an Indian policy research institute on Thursday.
India, with the rotating presidency of the Group of 20 industrialised and developing countries, could represent the needs of less-developed nations in such a process, Meloni said in a statement following talks with Indian Prime Minister Narendra Modi.
Modi reiterated his cautious stand by reaffirming that peace can be achieved only through diplomacy and dialogue, saying, "India is ready to support a peace initiative in that direction."
So far, India has refrained from directly criticising Russia's invasion. The two have been allies since the Cold War era, and New Delhi depends on Moscow for nearly 60% of its defence equipment also increasingly scooping up Russian oil since the invasion a year ago. India has continued to abstain from voting in UN resolutions that condemn Russia's war against Ukraine.
Meloni, who became Italy's prime minister last October, conveyed her government's desire to reboot defence ties and called for expanding cooperation in green energy, digital transition, cybersecurity and space with India.
The military ties between the two nations were damaged in 2014 after India cancelled a $670 million (€631 million) contract for 12 helicopters after Italian defence giant Finmeccanica was accused of bribing Indian contacts to secure the deal.
India had received three helicopters and stopped the delivery of the remaining nine AW1010 helicopters.
India's decision to prosecute two Italian marines in the shooting deaths of two Indian fishermen in 2012 sparked a bitter row between the two nations. India's Supreme Court closed criminal proceedings against the Italian marines after Italy paid $1.3 million (€1.22 million) in damages, ending the long-simmering case in 2021.