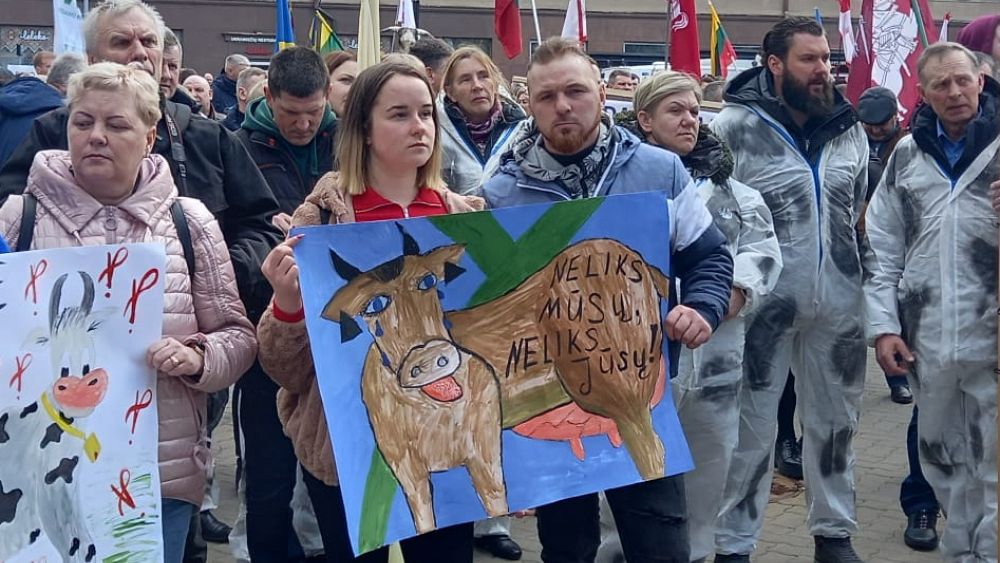 On a rare sunny day in Vilnius, something increasingly common happened. 
The country's farmers were out protesting – yet again.
In recent weeks, irate Lithuanian dairy farmers have given away their milk for free to anyone with a bottle and erected crucifixes outside supermarkets, as the sorry state of their industry pushes many to the brink to ruin. 
Another day, another protest. 
On Thursday, nearly 1,000 farmers from across all corners of the tiny Baltic country gathered outside the parliament, calling for the Agricultural Minister's resignation. 
They brought with them manure in supermarket bags and discarded their boots on a nearby lawn.
Some were decked out in tweed, smartly dressed to vent their anger at the pitiful rates they are paid for their milk. 
"Every month, I am in the minus. It costs me more to make a litre of milk than I get back," said Naglis Sakalauskas, who has a herd of 70 cows near Anyksciai, a popular resort town.
"Would this be ok for you," he told Euronews. 
Even in the bitter, dark winter months, when temperatures plunge well below freezing, the young dairy farmer is out the door at 4:30 am, regularly grafting until 10pm — six days a week. 
More than unsustainable prices
Against a backdrop of the war in Ukraine, one of the key problems facing farmers is inflation, with the Baltics experiencing some of the highest price rises in Europe last year. 
"Diesel is going up. Food is going up. Everything is going up," Sakalauskas told Euronews, estimating that he received 25 cents per litre of milk, while his costs were 35 cents. 
"It's not possible". 
But he added there were troubles long before Russian tanks rolled across the Ukrainian border. 
"The biggest problem is those people over there," he said, pointing to the imposing Communist-era parliament building across the street, once known as "Soviet Palace". 
"They need to help farmers get the best price for their milk."
Dairy farmers have asked for aid of €40 million, but the government has so far refused. 
Lithuanian farmers claim their milk is purchased at some of the lowest prices in the EU, especially compared to neighbours Poland and Latvia, which is driving them towards bankruptcy. 
Government figures show the average raw milk purchase price fell for the second month in a row in December to 0.51 euro per kilogram, down by 6.7 per cent from November, but it was still up nearly 20% year-on-year. 
Speaking to LRT in February, the Agriculture Ministry blamed the low rates on a glut of milk, cream, butter and cheese, which was piling up in warehouses. 
'We are ignored'
Giedrius Matuskevicius, another protester clad in a green puffer jacket, complained that officials were indifferent to the plight of farmers. 
"They know what we are going to say," he told Euronews. "They are destroying all the factories, trying to squeeze the budget as low as possible. They don't care." 
Matuskevicius, was once a dairy farmer himself, but gave it up after working too much "without a euro in my pocket," and still ever seeing his family. 
"We need to open our eyes and ask where all this money is going," he said, alluding to the yawning difference between the price people pay in the shops and the amount farmers receive.  
Like in other European countries, Lithuanian dairy farmers say they are squeezed by huge chain supermarkets, amid endemic neglect by the authorities. 
But it seems they may have been pushed too far.  
Holding a foreboding sign reading '2024: It was good to drink coffee with milk', Mintare used to dream of working on her parent's farm. 
Now the teenager says she would rather join the army. 
"The milk price is just so low," Mintare told Euronews. "My parents are stressed and maybe unhappy too. Of course, we need the money". 
More than one in eight milk farmers closed their business last year, according to LRT, selling their cows to farmers in Poland. 
In May, the Ministry of Agriculture pledged to give dairy farmers €8 million in support. This week it asked the European Commission for "exceptional" financial support from EU reserves to assist farmers. 
"Every year it is the same," said farmer Sakalauskas."Milk price goes down, we protest, we wait a year, and then again protest."
"But I am young. I still have hope."
In a statement sent to Euronews, the Agricultural Ministry said: "The Ministry of Agriculture, together with the Government, is doing everything within their competence to stabilise the situation in the dairy sector in Lithuania." 
"In order to find possible ways to solve problems of the milk sector, meetings are regularly organised with social partners and dairy sector participants."
Amendments to the country's Milk Law, which would strengthen the bargaining power of milk sellers, are due to be discussed by the "Milk Council" on Friday, according to the ministry.