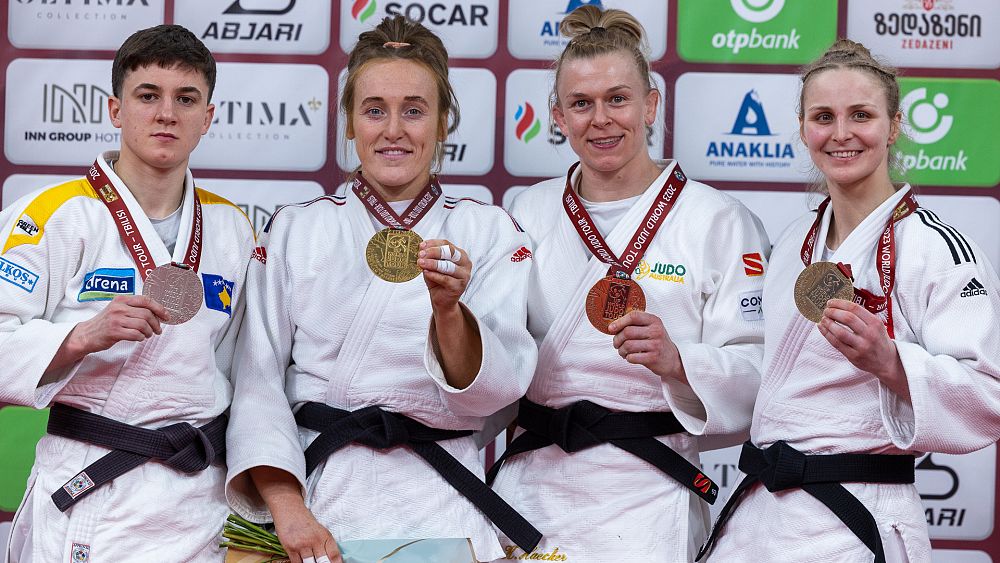 Day two of the Tbilisi Grand Slam picked up on the incredible momentum of the first, with the stadium packed full of judo-crazy fans: few crowds on the World tour match the passion of Georgian supporters.
And it was Great Britain's Lucy Renshall who defeated Laura Fazliu from Kosovo to take the -63kg gold – a merited reward for her consistently strong performances at the highest level.
Giorgi Atabegashvili, the Georgian Judo Federation President, awarded the medals
"Yeah it's so nice just walking out the arena you hear people cheering, and we don't have a big team here so it's definitely not all my team," Renshall said. "When you're going for a big throw you can hear the crowd, really going for it, so it's nice, it's motivating, it's a good atmosphere."
One incredible Ippon after another
Mongolian youngster Erdenebayar Batzaya was on blistering form all-day – producing one incredible Ippon after another at -73kg
And he took the final against Uzbekhistan's Obidkhon Nomonov, with yet another Ippon deep into golden score.
Vlad Marinescu, Director General of the IJF, handed out the medals.
"I am so happy that my explosive techniques worked throughout the day," Batzaya said afterwards. "And that I was able to score like that against my opponents. I am so grateful."
Enormous hip throw
Greek powerhouse Elisavet Teltsidou blasted her way to the -70kg final, an enormous hip throw the highlight of her qualifying bouts.
In the final, she won a tactical victory over the Dutch world and Olympic medallist Sanne van Dijke.
Giuseppe 'Pino' Maddaloni, IJF Refereeing Supervisor, handed out the medals.
Austria's Wachid Borchashvili came out top of a tough -81kg contest against Kazakhstan's Abylaikhan Zhubanazar, thanks to an effective dropping technique.
Neil Adams, IJF Refereeing Supervisor, awarded the medals.
Raucous cheers for the local hero
Local hero Lasha Shavdatuashvili was fighting today.
He's the only Georgian to have taken all three major titles – World, European and Olympic – and is a legend of the sport. Although he only managed to take bronze, his every move was greeted with raucous cheers from the crowd.
Always the sportsman, he's an inspiration to everyone.
Don't miss the final day of the Tbilisi Grand Slam tomorrow.