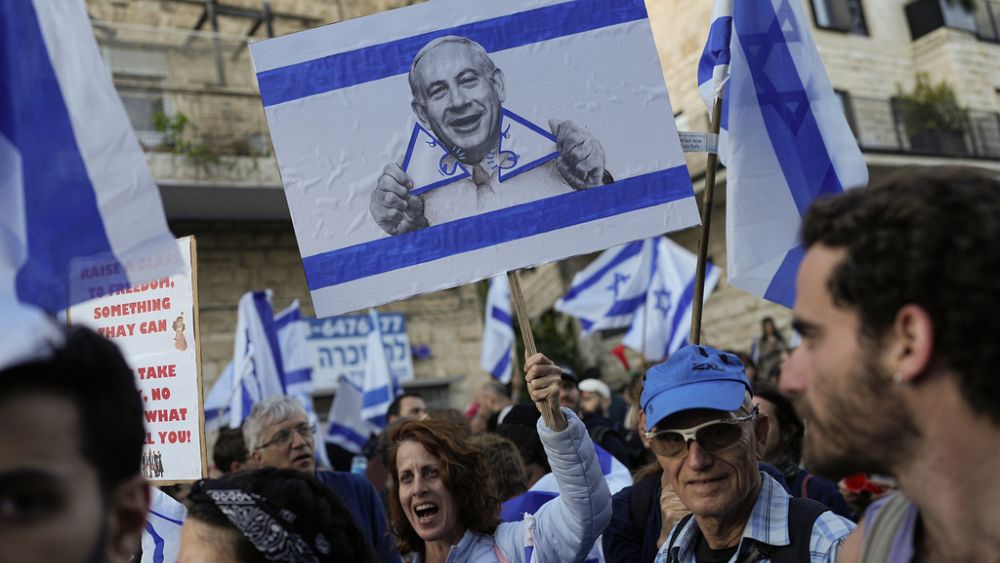 Israeli Prime Minister Benjamin Netanyahu has 'paused' his controversial plans to reform Israel's judiciary. The embattled leader blamed an "extremist minority" for the protests and that he is "not ready to divide Israel into pieces." Netanyahu also said he is "taking time for further dialogue."
The overhaul, which has sparked widespread protests and international condemnation, will not now be discussed in parliament until next month, said coalition member party Jewish Power earlier.
The announcement comes after Netanyahu's national security minister, Itamar Ben-Gvir, said on Monday that the government's plan to overhaul the judiciary was being put on hold until the parliament's summer session, which begins on April 30. 
Tens of thousands of people have repeatedly taken to the streets against the plan — including spontaneous mass demonstrations that erupted across the country late Sunday after Netanyahu fired his defence minister for questioning the overhaul.
Yoav Gallant had been the first senior member of the ruling Likud party to speak out against the government's plan, saying the deep divisions were threatening to weaken the military. In a brief statement, Netanyahu's office said late Sunday the prime minister had dismissed Gallant. 
Netanyahu later tweeted, "We must all stand strong against refusal."
The controversial changes would give the governing coalition control over judicial appointments and weaken the country's Supreme Court by granting parliament the authority to overturn its decisions and limiting judicial review of laws. 
Opponents say the overhaul would upend the country's delicate system of checks and balances by giving Netanyahu's ruling coalition control over what is now an independent judiciary.
The government says the legal changes are necessary to streamline governance in the face of an interventionist judiciary.
Nationwide strike
Earlier on Monday, protesters demonstrated outside Israel's Parliament and workers launched a nationwide strike aimed at halting the overhaul. 
The chaos shut down much of the country and threatened to paralyze the economy. Departing flights from the main international airport were grounded. 
Large mall chains and universities closed their doors, and Israel's largest trade union called for its 800,000 members to stop work in health care, transit, banking and other fields.
Protesters in Tel Aviv blocked a main highway and lit large bonfires, while protesters gathered outside Netanyahu's private home in Jerusalem. 
Police scuffled with protesters and sprayed the crowd with a water cannon. Thousands then marched from the residence to the Knesset.
Our journalists are working on this story and will update it as soon as more information becomes available.