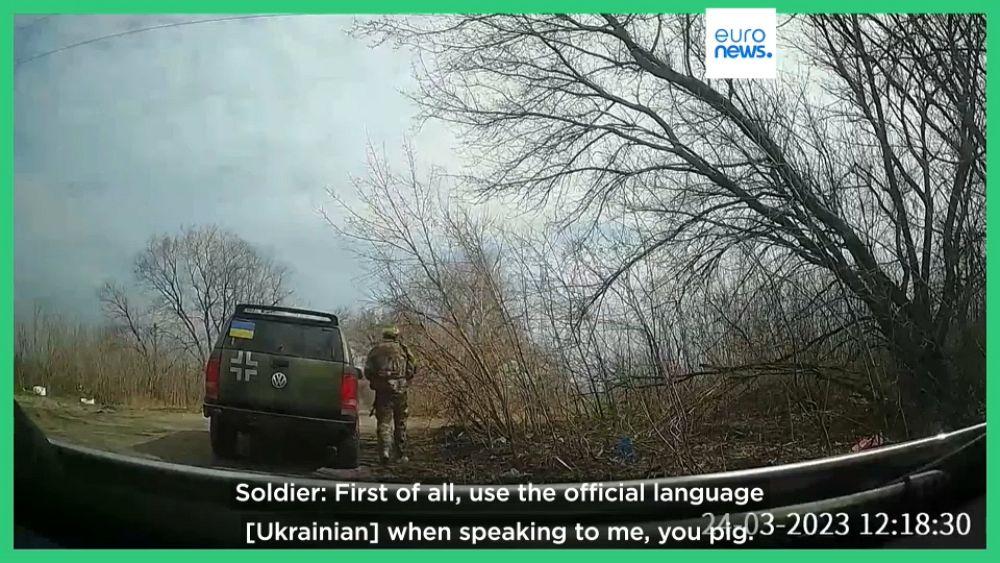 Pro-Kremlin groups have been caught red-handed staging a video of Ukrainian soldiers allegedly harassing a woman and her baby. 
In the clip, filmed on the woman's dash cam, a vehicle with a Ukrainian flag pulls over and two men in camouflage jump out.
They start insulting the Russian-speaking woman calling her "scumbag" and "swine" as the woman begs the officers not to talk to her like that.
"Give me your papers, you bastard," yells one of the men in the video. "First of all, use the official language [Ukrainian] when speaking to me, you pig. Don't use the pigs' language [Russian] with me," says the military man.
"I won't pay attention to your child. You, bastard, are you dumb?" screams the officer before appearing to fire his weapon at the woman's car as she shrieks. 
The two-minute video caused outrage among pro-Kremlin officials and was widely shared claiming to be evidence of Ukrainian troops abusing civilians.
In a now-deleted tweet, Russia's Ministry of Foreign affairs referred to the Ukrainian soldiers as Nazis, a common propaganda narrative pushed by the Kremlin since the start of the invasion. 
How do we know this video is staged?
Internet sleuths were quick to debunk this video. GeoConfirmed, a group of volunteer investigators, managed to precisely locate the exact area where the video was filmed. 
By analysing the direction of the power lines, as well as the roads and the location of the trees, the Twitter account determined that the action took place in Makiivka, in the Russian-occupied Donetsk region. 
So, it wouldn't make any sense this road would be patrolled by Ukrainian soldiers if it's under complete Russian control. 
Another interesting point made by GeoConfirmed is the behaviour of the alleged Ukrainian military. If they're in Russian-occupied territory, why are they acting so relaxed?
Moreover, dashcams have been banned in Ukraine since the start of the war. Normally under this law, the woman in the video would have had her camera confiscated. 
The findings of the GeoConfirmed investigation were confirmed by the Moscow Calling Telegram channel.
A subscriber went to the exact area and was able to photograph the surroundings, showing a clear match of the shape of the tree branches, which were also visible on the staged video.
And Even pro-Kremlin Telegram channels admitted the video was a clumsy fake.
In a post, the pro-war Channel Veteran Notes said "The video is fake. Our [guys] are clumsily practising. In carrying out such information operations, our [guys] still have to learn."