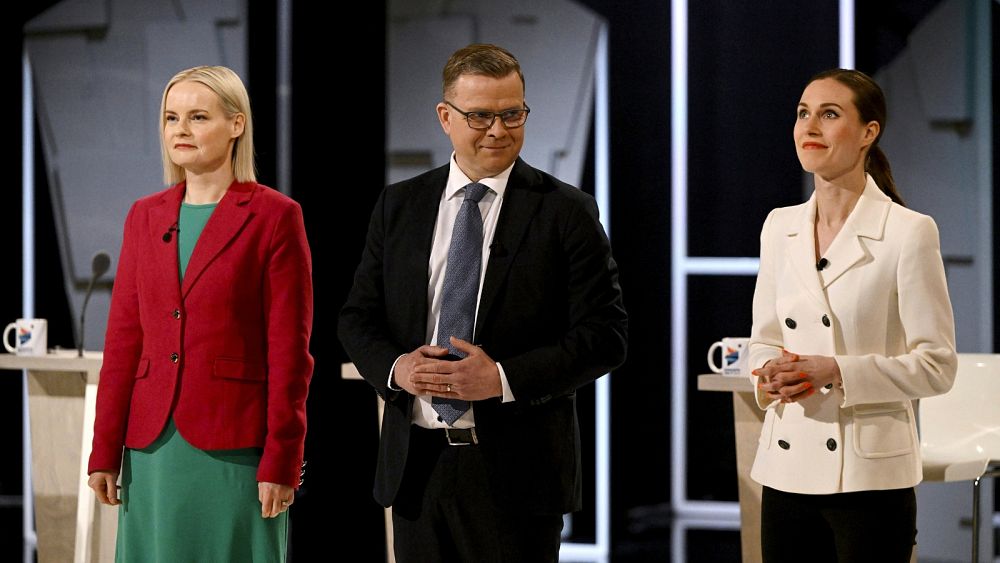 The latest election polling in Finland is too close to call between the incumbent Social Democrats, the conservative National Coalition Party and the far-right nationalist Finns Party. 
Any one of those parties could find themselves in pole position to lead a new government when all the votes are counted. 
Every policy question is being closely scrutinised by the media, every media gaffe or public slip-up is being pounced upon, and the three main party leaders — Sanna Marin, Petteri Orpo, Riikka Purra — are under the microscope like never before. 
So what are some of the main policy strengths and weaknesses the parties face? 
This election season it's more about traditional party ideology — left versus right — than values-based issues like the environment, equality, or even joining NATO, which is now done and dusted. 
Marin's Social Democrats have been under fire from right-wing opponents for what they see as wasteful economic policies that have done nothing but add to Finland's debt burden in an irresponsible way over the last four years. 
And Marin herself has come under fire for comments she made during a recent trip to Kyiv, and not just from rival politicians. Commercial television channel MTV3 wrote an editorial branding her "either completely ignorant or downright unscrupulous" for saying that Finland "could" talk about giving up its Hornet fighters to Ukraine, with the Nordic nation waiting for deliveries of their next generation fighters from the US starting in 2025. 
The country's most-read newspaper Helsingin Sanomat went as far as to say the Hornet issue (Finnish politicians can be particularly prickly around discussions of national security) could tip the balance of Sunday's election. 
There's also regular criticism that Marin rarely — if ever — takes responsibility for policy missteps and instead likes to pass the blame on to her opponents (which, to be fair, is something that most politicians try to do!) 
The National Coalition Party — or Kokoomus as it's known locally — has been criticised by politicians and economists who say its plans to balance the national budget simply don't add up, and they'll have to cut so deeply into basic services that it would hurt the lives of everyone in the country.
This week, economist Jussi Ahokas told public broadcaster Yle that Finland is "in a very good situation" compared to European countries when it comes to finances.
Kokoomus also has a problem that it's seen by many — and repeatedly framed by Marin — as being too close to the far-right nationalists: and if you vote for Kokoomus, you'll end up with a Finns Party government. 
For their part, the Finns Party are perennially dogged by allegations of racism and xenophobia among their candidates; they've promised to take Finland out of the EU in one manifesto, while at the same time also said that's not their goal any more.
Their humourless leader Riikka Purra drew astonished gasps by saying on TV that culture was a "luxury" item – a hard sell in a country which revels in its rich literary, musical and visual arts scene: from small-town libraries to big international festivals and all points in between.
But what do election candidates on the streets, in the market places and in shopping centres talk to voters about?
Ahead of Sunday's election, Euronews spoke with candidates on the campaign trail to find out which policies are most important to them, and where their opponents are falling short.
Finland's Minister for Transport and Communications Timo Harakka tells Euronews that his political opponents have dropped the ball when it comes to education policies. 
"Kokoomus has been in charge through the 2010s when Finland cut education and research and development funding, and fell behind in percentage of college graduates. 
They broke their explicit promise not to cut education in 2015 and removed the right for every child to attend pre-school," the Social Democrat MP explains.
"They opposed the Marin government's school reform, which extended compulsory education until 18-years-old, just as they opposed equal comprehensive education back in the 1970s. 
"Again, now, they vow otherwise. They cannot make the cuts they propose without jeopardising our good school system," he says. 
Green candidate Alviina Alametsä says that her party has put a particular focus on mental health services. 
"We are pushing different ways to prevent mental health issues including with universal basic income, and the wellbeing of nature," she tells Euronews. 
Alametsä, who is one of Finland's two Green MEPs in Brussels, says that programmes like one in Helsinki where three clinics provide therapy for free, are a good example of the concrete changes they'd like to see. 
"I am worried though, that if the National Coalition Party is making it to government, or if they are the prime minister, I am worried they will put a lot of cuts to education and mental health budgets, and to social security."
"I think they are trying to push for economic growth from the wrong angle, and we have research to show this is not working." 
National Coalition Party politician Sinuhe Wallinheimo represents a constituency in Central Finland, and says that other parties aren't concerned enough about the economic "crisis" in Finland. 
"And by that I mean the amount of debt that Finland has right now, and what has to be done about it," he tells Euronews. 
"I think in my party we are better at pro-market politics than the other ones. We rely on the state but we believe in pro-market and competition between individuals, and competition between the companies, which is better for society," he adds. 
"When we discuss immigration policy, I believe our party understands the facts," says Fatim Diarra, who is a Green League candidate in Helsinki. 
"We need people to come to Finland, but at the same time we cannot treat immigrants as cows we milk to put money into the system. But instead, we must see Finland as a place where we welcome people to build a life to suit their circumstances," she tells Euronews.
Diarra, who missed out on a seat in parliament in the 2019 election by just 200 votes, says that people who come to Finland to make a better life for themselves need access to education and labour markets, and shouldn't only be thought of as candidates for low paid jobs. 
"Some parties see immigration only as a tool to make people work for Finns. When I discuss this with people from some parties, they want immigrants to work in the service industry and health care.
"They see immigration as a cheap labour force, but this is not the way the Greens see it. Finland is a good country, our social structure is strong and we welcome people to come here and build a good life for themselves." 
The city of Jyväskylä in Central Finland has traditionally been a bastion of support for the Centre Party, Keskusta. Once a powerhouse of Finnish politics, Keskusta has slumped dramatically over the last four years despite being in government, and they're now polling their lowest ever numbers. 
They are predicted to lose up to ten seats on Sunday. 
MP Joonas Könttä, a former Finnish diplomat, says his party's focus has been on "aluepolitikka" or regional policies. 
"We want to take care of the countryside and the cities, so the same level of services are available all over the country," he tells Euronews. 
"No other parties are underlining the possibilities of the whole country."