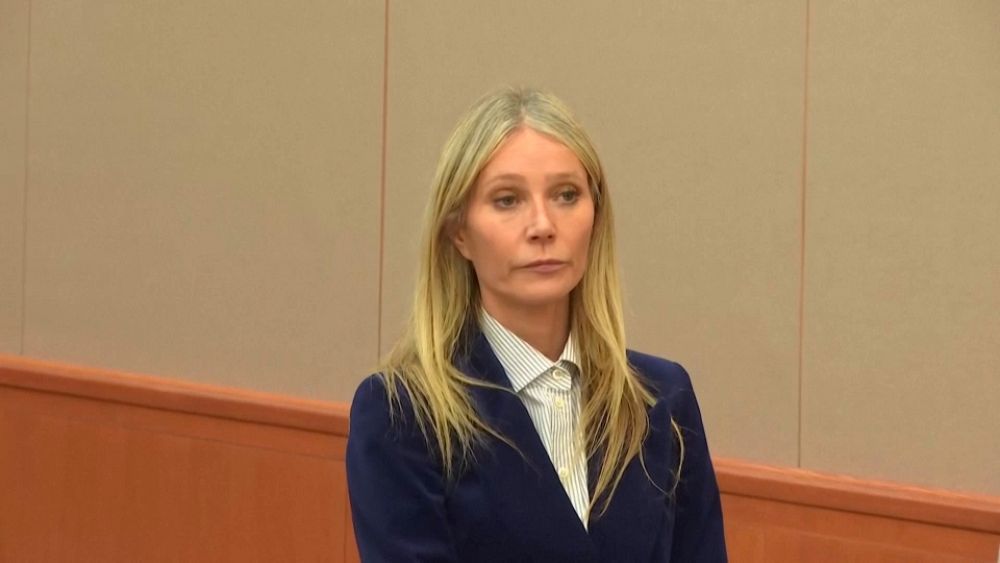 Gwyneth Paltrow has won her court battle over a 2016 ski collision at an upmarket Utah ski resort after a jury decided Thursday that the movie star wasn't at fault for the crash.
A jury dismissed the complaint of a retired optometrist retired eye doctor Terry Sanderson, 76, and said that he was 100% at fault for the incident.
Attorneys for Paltrow and Sanderson described their clients in closing arguments as aggrieved victims participating in a years-long legal battle to take a stand for truth. 
Paltrow, an actor who in recent years has refashioned herself into a celebrity wellness entrepreneur, looked to her attorneys with a pursed lips smile when the judge read the eight-member jury's verdict in the Park City courtroom. She sat intently through two weeks of testimony.
The dismissal concludes two weeks of courtroom proceedings that hinged largely on reputation rather than the monetary damages at stake in the case. Paltrow's attorneys described the complaint against her as "utter B.S." 
Worldwide audiences followed the celebrity trial as if it were episodic television. Viewers scrutinized both Paltrow and Sanderson's motives while attorneys directed questions to witnesses that often had less to do with the collision and more to do with their client's reputations.
The jury's decision marks a painful court defeat for Sanderson, the man who sued Paltrow for more than $300,000 over injuries he sustained when they crashed on a beginner run. Both parties blamed the other for the collision. Sanderson broke four ribs and sustained a concussion after the two tumbled down the slope, with Paltrow landing on top of him.
He filed an amended complaint after an earlier $3.1 million lawsuit was dismissed. Paltrow in response countersued for $1 and attorney fees, a symbolic action that mirrors Taylor Swift's response to a radio host's defamation lawsuit. Swift was awarded $1 in 2017.
Paltrow's defense team tried to paint Sanderson as an angry, aging, and unsympathetic man who had over the years become "obsessed" with his lawsuit against Paltrow. They argued that Paltrow wasn't at fault in the crash and also said, regardless of blame, that Sanderson was overstating the extent of his injuries.