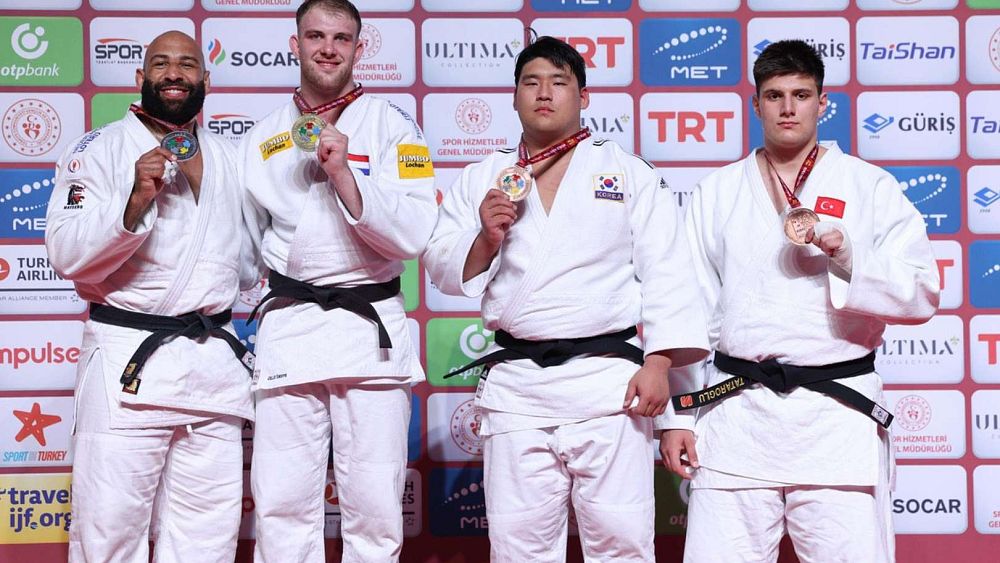 The third and final day of the Antalya Grand Slam saw an incredible atmosphere consume the Spor Salonu arena sports hall as the excitement grew.
There was respect and a sign of things to come before the under 100 Kg final, which saw two massive throwers enter the fray.
And the final did not disappoint, as Fara launched Eich with his favourite technique. The sportsmanship continued after the fight, displaying the moral code of Judo in great spirits.
He was awarded his medal by IJF President Marius Vizer.
At under 78 Kg, 2011 World Champion Audrey Tcheumeo defeated the current Olympic Champion Hamada Shori in the final. Staying on top for so many years, an impressive feat.
She was awarded her medals by Armen Bagdasarov, IJF Head Referee Director.
At under 90 Kg, 2019 World Champion Noel Van T End executed an absolutely enormous sode-tsuri-komi-goshi to claim his second Grand Slam title this year. He seems to be hitting form at just the right time to possibly reclaim the World title.
IJF General Treasurer, Naser Al Tamimi, awarded him his medal.
"I hope a lot, because winning a gold medal feels very good, and the worlds is just in 4 weeks. I know I'm in shape now because I've proved it 2 times already. It just needs to all come together at the worlds and we're going to have another good medal", said Van T End.
The Turkish fans were delighted to strike Gold. On her route to the final, Kayra Sayit bested the reigning World champion Romane Dicko in the quarter-finals. A massive win just before the world championships.
In the final she took a tactical victory against Serbia's Zabic, much to the delight of all the children in attendance.
Turkish Judo Federation President, Sezer Huysuz awarded the medals as the entire stadium proudly sang the national anthem.
"It's always amazing because we have a great public, and they are coming to give us good energy and good vibes, so it's really exciting and I was so happy to win in Türkiye, and in front of the Turkish public", said Sayit.
Jelle Snippe made it double Dutch delight, after a double Dutch final! Defeating his compatriot Roy Meyer after a tough contest.
The medals were awarded by Olympic Champion, Hüseyin ÖZKAN.
There was more success for Turkey as they also took 2 bronze medals, first a delighted Tataroglu in the over 100 Kg category.
And also a second medal at the over 78 Kg, with Ozturk defeating her Mongolian opponent.
So the sun sets on another successful event in Turkey, filled with lots of incredible judo. Soon, the World Championships!