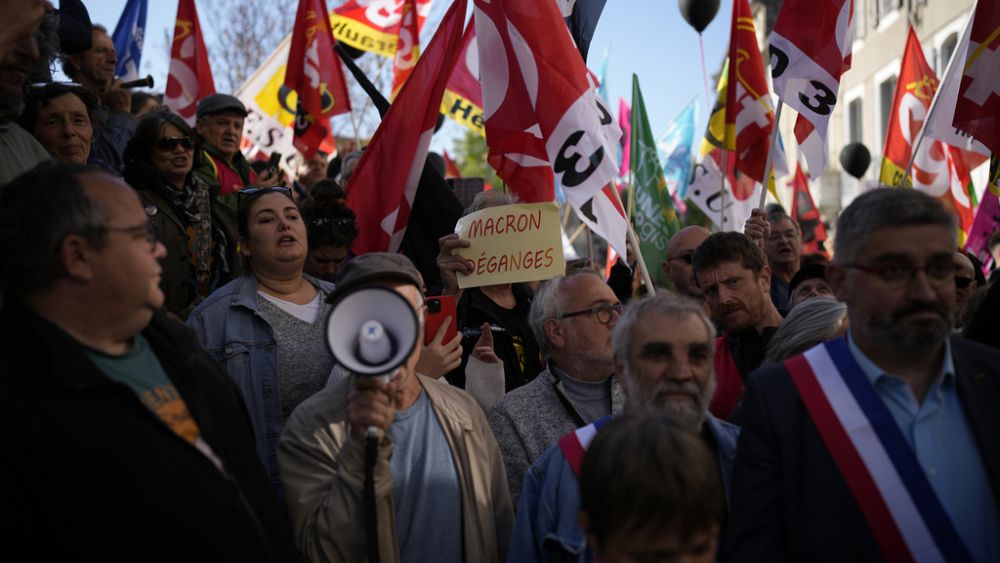 Dozens of French railway workers set a bonfire outside Paris' Gare de Lyon train station on Thursday as they started another day of strikes over President Emmanuel Macron's unpopular pension reform.
France has been embroiled in weeks of demonstrations over the plans, which include raising the retirement age from 62 to 64.
Thursday's industrial action at SNCF, which was called by several unions, impacted regional lines and Paris suburban services, the national railway company said.
In France's third largest city, Lyon, more than a hundred railway workers demonstrate at Part-Dieu station.
Some protesters in the northern city of Lille walked along the railway line, blocking all train traffic for about one hour. They then left the site peacefully.
Sud-Rail union representative Fabien Villedieu said protesters are determined not to let the reforms pass, culminating in a planned demonstration set for May 1, in line with International Workers' Day.
Meanwhile, a loud gathering of approximately 250 people demonstrated in the Ganges, southwestern France, two hours before President Macron's visit devoted to education.
Macron and his government have made a concerted effort to move on from the furore after the legislation was approved by a Constitutional Council last week.
People could be heard singing what has become the anthem of the retirement protests: "We are here, we are here, even if Macron doesn't want (us to be here), we are here."
The French president was to meet teachers and students at a middle school, where he was scheduled to promote his education policies. On his arrival, the site was affected by a power cut, which the local branch of the hard-left CGT union said was a protest action.
Dozens of police officers were deployed in the small town to prevent the crowd from getting close to the school. They briefly used tear gas to disperse people when some tried to storm the barriers.
On Wednesday, Macron went to eastern France, where he mingled among a crowd for the first time since he enacted the law last week. Many seized the occasion to voice their anger.
Raising the retirement age has ignited a months-long firestorm of protest in France. Opponents have been even more infuriated after Macron's government in March forced the legislation through parliament, using special government powers.