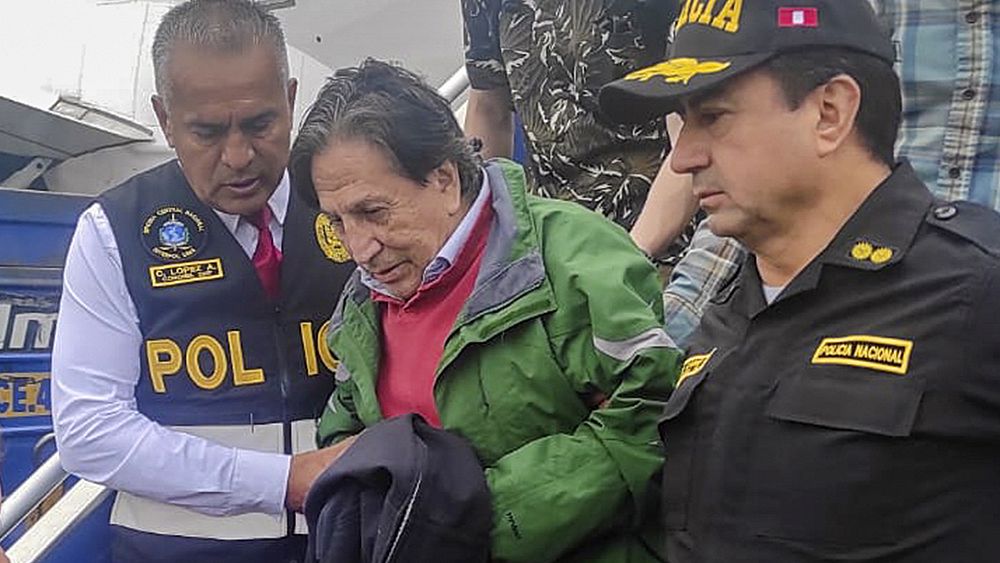 Former Peruvian president Alejandro Toledo arrived in Lima on Sunday after he was extradited from the United States. The 77-year-old has been accused of money laundering in relation to public service contracts and he could face up to 20 years in prison.
Interpol agents handed the former president over to Peruvian police and prosecutors after he travelled from Los Angeles. He was transferred to the prison by helicopter where he is currently being held under preventive detention. 
On his arrival in Lima, he appeared before a judge to verify his identity.
In 2019, the former president was arrested in the United States for alleged corruption in Peru. He was then placed under house arrest at his home in California until he was extradited. 
Toledo, who was president of Peru from 2001 to 2006, is accused of having received tens of millions of dollars from the Brazilian construction group Odebrecht, at the heart of a vast scandal in South America, in exchange for obtaining public contracts.
The prosecution is seeking a sentence of 20 years and 6 months behind bars for Toledo, who is accused of taking at least €18 million in bribes from Odebrecht. 
However, he has maintained that he is innocent of the charges and claimed that it was a now-deceased businessman, Josef Maiman, who handled the transactions. 
Roberto Su, Toledo's lawyer, told reporters in Lima on Sunday that his client was suffering from cancer and "many diseases", without giving more details. But his application to be held under house arrest was turned down
Former President Ollanta Humala is also standing trial on allegations that he and his wife received over €2.7 million from Odebrecht for his presidential campaigns in 2006 and 2011. Both have denied any wrongdoing.
Ex-leader Pedro Pablo Kuczynski, who left office in 2018, is under house arrest for similar charges.
Former leader Alan García, in office from 2006-2011, fatally shot himself in the head in 2019 as police arrived at his home to arrest him.