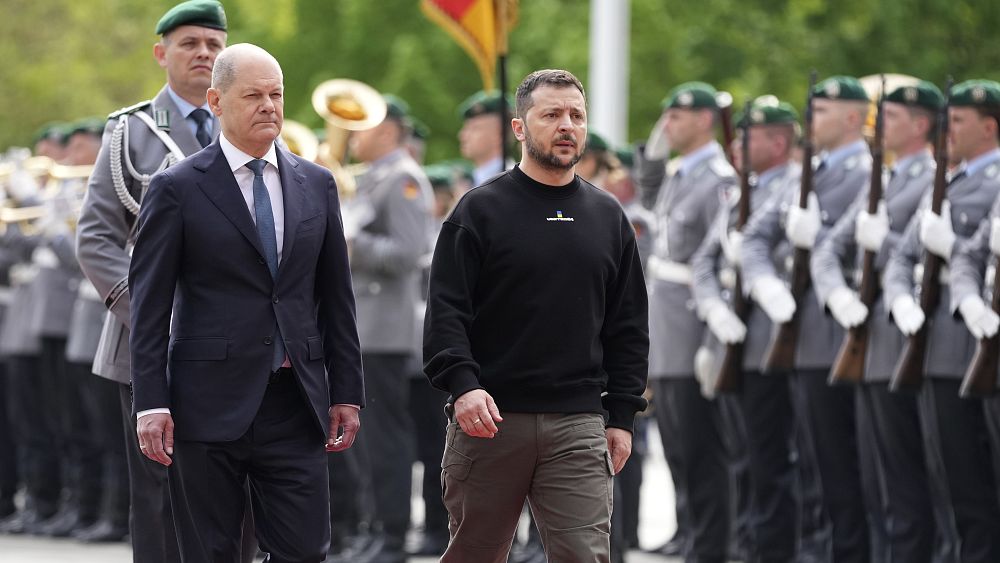 Zelenskyy is visiting allies in search of further arms deliveries to help his country fend off the Russian invasion.
Ukrainian President Volodymyr Zelenskyy was welcomed with military honors Sunday by German Chancellor Olaf Scholz as he made his first visit to Germany since Russia invaded Ukraine.
Zelenskyy is visiting allies in search of further arms deliveries and funds to rebuild what's been destroyed by more than a year of devastating conflict..
On the eve of his arrival – which took place amid tight security – the German government announced a new package of military aid for Ukraine with aid worth more than €2.7bn, including tanks, anti-aircraft systems and ammunition.
"Already in Berlin. Weapons. Powerful package. Air defence. Reconstruction. EU. NATO. Security," Zelenskyy tweeted Sunday, in an apparent reference to the key priorities of his trip.
After meeting Chancellor Olaf Scholz and other senior officials at the Chancellery, the two leaders are expected to fly to the western city of Aachen for Zelenskyy to receive the International Charlemagne Prize awarded to him and the people of Ukraine.
Organisers say the award recognises their resistance against Russia's invasion is a defence "not just of the sovereignty of their country and the life of its citizens, but also of Europe and European values."
Are journalists are working on this story and will update it as soon as more information becomes available.