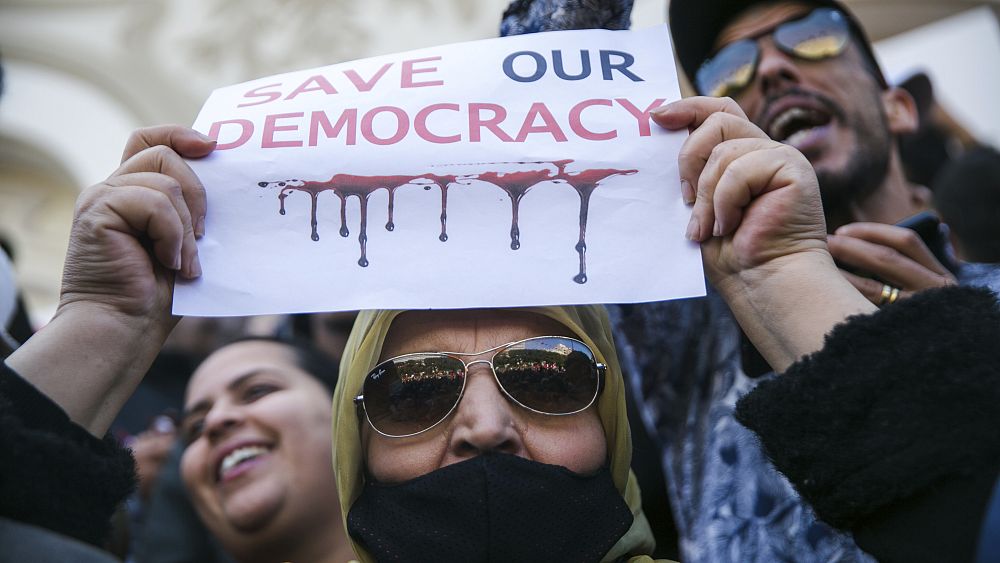 Following President Kais Saied's political crackdown on dissent in Tunisia, Europe has been cautious about condemning his authoritarian descent, fearful of risking instability in a country which plays a key role in stopping illegal migration.
More than 2,000 kilometres away from the political heart of the European Union in Brussels, Tunisia's fragile democracy is being eroded and the country's stability is starting to shake.
The democracy which the country has taken more than a decade to build after the Arab Spring is being dismantled by Tunisia's current president Kais Saied, who's shrunk the power of parliament and the judiciary since taking office in 2019, and has recently crackdown on the opposition.
Meanwhile, Tunisia's economy is on the verge of collapse as the country scrambles to find enough foreign funding to sustain its massive external debt.
But what happens in Tunisia doesn't happen in a vacuum, and the physical distance between Europe and Tunisia is unlikely to shield the continent from the consequences of the North African country's authoritarian descent and the unravelling of its democracy. Political and economic turmoil in the North African country is likely to have a significant impact on Europe – and especially Italy.
That is not only because parts of Italy, like the island of Sardinia, are actually closer to the Tunisian coast than they are to the country's mainland. But also because Italy has recently become Tunisia's number one trading partner, and the country increasingly relies on Tunisian authorities to discourage the growing migratory pressure on the Italian coasts.
What is happening in Tunisia?
On 10 April, in the Tunisian town of Haffouz, history almost repeated itself when 35-year-old footballer Nizar Issaoui set himself on fire to protest against what he called "the police state."
Issaoui, a former player for US Monastir and a father of four, was accused of terrorism after complaining about the rising price of bananas – 10 dinars, the equivalent of €3.05 – with a fruit seller.
His desperate gesture was almost identical to that of fruit seller Mohamed Bouazizi, whose self-immolation on 17 December 2010 started off a series of uprisings throughout the Arab world which became known as the "Arab Spring." 
Tunisia was the country where the Arab Spring started, and the only success story of the uprising. While in other countries the protests didn't achieve much real change, Tunisia emerged from the revolutionary times with an apparently stable multi-party democracy led by a new government which took the place of Zine al-Abidine Ben Ali. 
Ben Ali had been Tunisia's president since 1987, but resigned in 2011 and fled to Saudi Arabia after weeks of protests.
In the years that followed, Tunisia introduced a constitution that enshrined civil rights and made sure that no other strongman could take the lead of the country. It was a huge success for Tunisians – but the initial excitement soon turned into disillusionment as a series of governments failed to bring to life the dream of economic growth and improved living conditions that came with the uprisings.
Tunisia is now much poorer than it was in 2010, partly because of the devastating impact the pandemic had on its economy and rising inflation. The disappointment with the new democratic system led to the landslide victory of Kais Saied in 2019, which turned the previously unknown constitutional law expert into Tunisia's sixth president in the last 12 years.
During his campaign, Saied said that the democratic system wasn't working, claiming that political parties in parliament had too much power.
When during the pandemic Saied was given emergency powers to try and rescue the country's severely hit economy and struggling health services, he used these powers to fire the prime minister, close the National Assembly and suspend the constitution – reversing a decade of democratic reforms.
Those who criticised and opposed him, from politicians to journalists, were detained or jailed. In July last year, Saied won a referendum which allowed him to introduce a new constitution, increasing his power at the detriment of the parliament and the judiciary.
On April 17, the arrest of the leader of the opposition Ennahda party Rached Ghannouchi sparked an outcry from critics of Saied accusing his government of taking an increasingly authoritarian turn.
A similarly outraged reaction has been triggered by Saied's hateful comments on migrants coming from sub-Saharan Africa. Saied said they're part of a "conspiracy" aimed at changing the demographic composition of Tunisia and has blamed them for the problems of the country.
But Tunisia's political turmoil isn't the only crisis the country is facing.
"Parallel to that there's an economic crisis linked to Tunisia's significant external debt, which is reliant on foreign funding to continue to effectively meet these external liabilities," Riccardo Fabiani, North Africa Project Director at the think tank the International Crisis Group, told Euronews.
Tunisia right now doesn't have enough money to pay its significant debt, and it needs to find a source of financing to avoid a default. "The big risk right now is that at some point Tunisia might have to default on its debt with a series of consequences – politically, socially and economically – that we can't fully anticipate," Fabiani said.
The EU is the biggest foreign investor in Tunisia, accounting for 85% of the foreign direct investment (FDI) stock in the country.
Why does this matter for Europe – and Italy?
"The Europeans feel that they are on the front line of instability in North Africa and in the Mediterranean," Fabiani said. "And they feel that what happens in Tunisia has direct consequences for them."
From a migration perspective, particularly in Italy, "there is a strong fear that not only that economic or political instability in Tunisia may trigger a new wave of migration, including irregular departures from Tunisia to Europe," Fabiani said.
"And we have already seen over the past months an increase in the number of departures and regular departures from Tunisia because of the economic crisis."
Some 18,893 migrants have reached the Italian coasts from the North African country since the beginning of the year and as of 18 April, 2,764 of whom held a Tunisian passport.
Saied's attacks against sub-Saharan Africans in the country are likely to have caused a surge in the number of people willing to leave Tunisia, and Tunisian nationals are just as eager to leave. According to a recent survey by the Observatoire National de la Migration, 65% of Tunisians say they're willing to leave the country at whatever cost. Among those under 30, the percentage goes up to 90%.
The number of arrivals from Tunisia has significantly increased compared to the same timeframe last year, when less than 2,000 migrants reached Italy's coasts.
"Italy has never criticised Kais Saied, because for Italy the most important thing is that Saied can keep things under control, in terms of migration, in his country. This is the most important thing, even if it means that Italy has to interact with and foster a long-term friendship with a leader as problematic as Saied," Alissa Pavia, associate director for the North Africa Program within the Rafik Hariri Center & Middle East Programs at the Atlantic Council, told Euronews.
"It's understandable that Italy and the European governments might be concerned that instability could trigger migration, but they're also concerned that instability in Tunisia could make the situation worse. For example, in some of the neighbouring countries, like Libya, where there is already a crisis that has been going on for many years. So, you know, there are concerns about regional stability and migration that are very high, I would say, in the list of priorities of the Europeans."
There are also purely economic reasons why the unfolding political situation in Tunisia is important for Europe, and especially Italy – the same reasons why Giorgia Meloni's government is more interested in maintaining stability in the North African country than protecting its democracy.
Last year, Italy became Tunisia's number one trading partner, overtaking France – though France remains the North African country's leading export market. Germany follows the two Mediterranean countries in third place.
The Algerian gas supplies – which Italy started relying on in 2022 to replace Russian imports – go across Tunisia before reaching Italy, through the Enrico Mattei pipeline, also known as the Trans-Med pipeline.
Is stability in the region worth turning a blind eye to Saied's authoritarian turn?
The European Parliament has already made two statements about Tunisian in 2023: one condemning President Saied and the way he has used the worsening socio-economic situation to reverse the country's historic democratic transition; and the other urging Tunisian authorities to immediately release Noureddine Boutar, director of Tunisia's largest independent radio station, who was arrested by counter-terrorist units on politically motivated grounds and unfounded allegations.
In February, Wolfgang Büchner, a German government spokesperson, said that Berlin was looking at the arrests of the Tunisian opposition, journalists, and activists with "great concern." 
In April, Germany's Foreign Minister Annalena Baerbock said that "Tunisia's democracy must not be lost" after Rached Ghannouchi, head of the opposition, was arrested.
"Yet, we have yet to see a strong and cohesive European condemnation of President Saied's ongoing power grab," said the Atlantic Council's Alissa Pavia. 
"We have yet to see any concrete actions taken by either the EU or other EU Countries. Europe must decide whether it intends to support Tunisia's democracy, or whether it will allow it to descend back into authoritarianism."
Europe, and especially Italy, have an interest in maintaining stability in the country – which in this case means not exerting pressure on Saied to rein in its political crackdown on dissent. But Saied's political crackdown risks having the same effect which Europe and Italy wish to avoid.
"We can see a positive correlation between dictators taking power and an increase of persecution against political opposition and other people, for example, people of minorities and so on, increasingly migrating and trying to reach Europe and Italy," Pavia said.
"Generally it's better to have open communication with democratic rulers rather than be at the behest of tyrants and dictators who we can't trust."