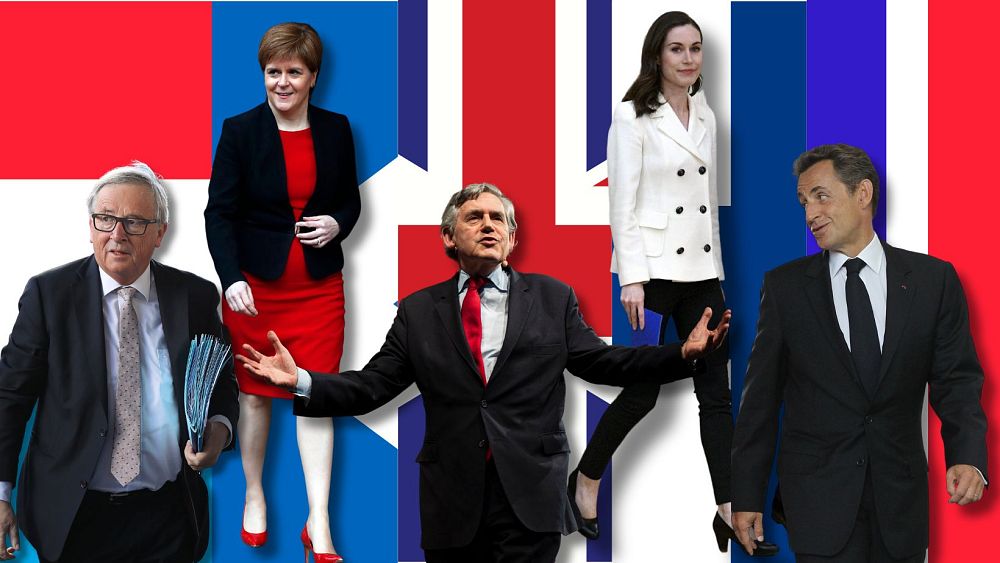 Following Scottish former First Minister Nicola Sturgeon's announcement she'll be writing a book about her time in office and Sanna Marin's recent career news, Euronews rounds up some of the most influential European leaders' lives since they've left the top job.
Many former European prime ministers and presidents seem to disappear without a trace after they resign, lose an election or are forced out of office.
Who can honestly say for certain what France's François Hollande or Dutch ex-PM Jan Peter Balkenende are doing these days?
For others who leave that position of utmost power, though, their tenure as leader is just the beginning of an exciting – or controversial – life or career.
In the last week, it's been announced that both Scotland's former premier Nicola Sturgeon and her Finnish counterpart Sanna Marin have taken on new projects ensuring that they'll likely be in the spotlight for years to come.
To mark that news, Euronews takes a – non-exhaustive – look at Presidents and Prime Ministers who've managed to make a significant impact long after their time in that particular role has come to an end.
Nicola Sturgeon – Scotland
"In my head and my heart, I know that time is now." Those were the words used by former Scottish First Minister Nicola Sturgeon when she stepped down from the top job earlier this year.
Having spent nearly 9 years in the role, one in which she fought tirelessly for Scottish independence but never managed it, she's been sitting as a backbencher since March.
In June she was arrested on suspicion of fraud – and bailed soon after.
The second half of 2023 has been far kinder to her, so far.
Last month, the former SNP leader announced she was writing a "deeply personal and revealing" memoir about her life and career.
This week, Sturgeon has revealed she's launched an "artistic creation" company after signing a lucrative publishing deal for that autobiography.
The company, Nicola Sturgeon Ltd, will be used to handle her outside earnings while she continues her work as a backbench MSP.
Her agent Andrew Gordon has previously said that there had been a "hotly contested" nine-way auction for the book. The winning publisher hasn't revealed how much the deal was worth but it's thought to be upwards of €175,000.
As was the case throughout her premiership, Sturgeon has already been criticised for focusing too much on her upcoming book and not enough on her constituents in one of the most deprived parts of Glasgow.
She will perhaps not get quite as much stick as her predecessor Alex Salmond, who set up his own company back in 2015.
Willie Rennie, a Lib Dem MSP, warned Sturgeon not to follow in Salmond's controversial footsteps, saying, "Let's just hope that she handles this artistic company with a good bit more dignity than Alex Salmond, who set up a similar company amid a late-career crisis, to process the money from his job as a chat show host on Kremlin-funded TV".
Up until last year, the disgraced former First Minister presented an eponymous programme, The Alex Salmond Show, on RT UK until it folded after the full-scale Russian invasion of Ukraine. 
Sanna Marin – Finland
Last week, Finland's former Prime Minister Sanna Marin announced she would be leaving parliament to join another former Prime Minister – Tony Blair's – foundation.
After taking office in 2019 at the age of 34, making her the world's youngest Prime Minister, Marin was narrowly defeated in April's elections. She stepped down from the leadership of her Social Democrats party earlier this month.
Within the Tony Blair Institute for Global Change, a London-based policy think tank headed up by the former British Prime Minister, she has been appointed as strategic advisor.
Marin led the country through COVID-19 lockdowns and the ensuing economic turmoil and, more recently, has been a vocal supporter of Ukraine after Russia's invasion, successfully leading Finland to end its military non-alignment in favour of NATO membership.
She has previously spoken of the "great honour" of having led Finland's government for three and a half years and has refused to rule out a future return to Finnish politics.
Speaking about her new engagement, Marin told press: "I feel that this assignment [with the Institute] is such that it will benefit the whole of Finland as well".
Nicolas Sarkozy – France
The only President on our list, Nicolas Sarkozy, is arguably one of the most controversial of all.
He left office as the premier of France in 2012, but has been dogged with controversy ever since.
Late last month it was revealed that Sarkozy is to be tried in 2025 over allegations he took money from late Libyan dictator Muammar Gaddafi to fund one of his election campaigns.
The trial is set to hear from Sarkozy himself as well as 12 other co-defendants. They're accused of conspiring to take cash from the Libyan leader to illegally fund Sarkozy's victorious 2007 bid for the presidency of France.
The 68-year-old denies the charges.
Since leaving office, Sarkozy has been convicted twice for corruption and influence-peddling in separate cases involving attempts to influence a judge and campaign financing. He has since appealed against both judgements.
The former French leader allegedly enjoyed cordial ties with the late Muammar Gaddafi. The Libyan investigation was sparked by revelations from the investigative website Mediapart which published a document purporting to show that Gaddafi agreed to give Sarkozy up to €50 million.
Sarkozy also faces a separate probe into apparent potential influence-peddling after he allegedly received a payment from Russian insurance firm Reso-Garantia of €3m while working as a consultant in 2019
Outside of his legal wows, Sarkozy has been making headlines in France following the publishing of a second volume of his memoirs.
He's drawn widespread criticism after suggesting that areas of Ukraine occupied by Russia after the Kremlin's invasion last year might need to be recognised as Russian.
On Crimea, he claimed the annexed region would remain Russian and that "any return to the way things were before is an illusion".
Sarkozy and Vladimir Putin have famously enjoyed friendly relations since the French leader was in power.
Jean-Claude Juncker – Luxembourg
Luxembourgish politician Jean-Claude Juncker is a recognisable figure the world over – and for good reason.
The 68-year-old served as the 21st Prime Minister of Luxembourg from 1995 to 2013 – making him the longest-serving head of any national government in the EU as well one of the longest-serving democratically elected leaders in the world.
From 2005, he also became the first permanent President of the Eurogroup, too – a role he held until 2013.
His tenure encompassed the height of the European financial and sovereign debt crisis but it wasn't enough to put him off the heady world of high politics.
After leaving office in 2013, he was announced as the European People's Party (EPP) had Juncker as its lead candidate, or Spitzenkandidat, for the presidency of the Commission in elections the following year.
He was elected by the European Parliament on 15 July 2014, netting 422 votes out of the 729 cast.
Taking office on 1 November 2014, he served until 30 November 2019, when he was succeeded by Ursula von der Leyen.
Since stepping down from front-line politics, Juncker has all but disappeared from the public eye. He's long been famous – or should that be infamous – for his great love of playing Pinball. We can only assume he's enjoying that pastime since his retirement.
Gordon Brown – United Kingdom
The former British Prime Minister was not a particularly popular premier. As chancellor under his predecessor, Tony Blair, though, Brown achieved high approval ratings and was hailed as the most successful chancellor in terms of providing economic stability in the country.
Following just 3 years in office, he was the last Labour premier before the current 13-year run of Conservative leaders.
Since leaving 10 Downing Street, he's been praised for his continuing contribution to politics and those in need since he quit the Commons in 2015.
After stepping down as PM in 2010, Brown did the thing that so many former Prime Ministers refuse to do – and returned to the backbenches.
He continued to serve as the MP for Kirkcaldy and Cowdenbeath until he gave up his seat in 2015.
In the ensuing 8 years, he has made occasional political interventions as well as publishing several political books.
In 2014, Brown played a prominent role in the campaign to maintain the union between Scotland and the United Kingdom during that year's Scottish independence referendum. Last year, he wrote a report on devolution for Labour leader – and presumed-Prime-Minister-in-Waiting – Sir Keir Starmer.
Brown has also taken a wider approach to his role as a committed public servant.
He has served as the United Nations Special Envoy for Global Education and as Ambassador for Global Health Financing for the World Health Organisation as well as taking on the unpaid position of chair of the International Commission on Financing Global Education Opportunity.
In 2015, Brown took on his first large-scale role in the private sector, becoming an advisor to investment management firm PIMCO.
He famously donates any money earned from that position to his and his wife's foundation, the Gordon and Sarah Brown Foundation, which supports children's needs worldwide. He has also been vocal during the UK's current cost of living crisis, taking the sitting government to task over their apparent lack of action with regards to people facing hardship.
Silvio Berlusconi – Italy
Despite his death in June, late Italian Prime Minister Silvio Berlusconi remains as easily one of the most recognisable figures in European politics in living memory.
The former media tycoon who, at the time of his death, was the third richest person in Italy, served as the prime minister of the country in four governments from 1994 to 1995, 2001 to 2006 and 2008 to 2011.
He also acted as a member of the European Parliament from 2019 to 2022, a role he had previously held from 1999 to 2001.
While in office, he was legendary across the globe. Known for infamous 'bunga bunga' parties, he was ranked in 2009 by Forbes as 12th in the list of the World's Most Powerful People due to his domination of Italian politics throughout more than fifteen years at the head of the centre-right coalition.
Berlusconi's 9 years as Prime Minister made him the longest serving post-war prime minister of Italy, as well as the third longest-serving since Italian unification, after Benito Mussolini and Giovanni Giolitti.
In 2013, Berlusconi was convicted of tax fraud by the Supreme Court of Cassation. He was given a four-year prison sentence and was banned from holding public office for two years.
He managed to avoid jail due, in part, to his age and instead served his sentence by doing unpaid community service.
He was nevertheless banned from holding legislative office for six years and expelled from the Senate.
After the political banishment was up, Berlusconi returned to the European Parliament as an MEP and returned to the Italian Senate after winning a seat in the 2022 Italian general election. 
Outside of politics, he also owned the popular Italian football club AC Milan from 1986 to 2017
Known for his authoritarian stance, populist political style and brash personality, he was a divisive figure until the end.
Throughout his long tenure, he was accused of mismanaging the state budget and of increasing the Italian government debt. He was also much criticised for his apparent vigorous pursuit of his personal interests while in office as well as being blackmailed due to his turbulent private life.
Despite dividing Italy and the wider political landscape, Berlusoni was given a state funeral following his death on 12 June at the age of 86, after a battle with chronic leukaemia.


Source link
rewrite this content and keep HTML tags Following Scottish former First Minister Nicola Sturgeon's announcement she'll be writing a book about her time in office and Sanna Marin's recent career news, Euronews rounds up some of the most influential European leaders' lives since they've left the top job. Many former European prime ministers and presidents seem to disappear without a trace after they resign, lose an election or are forced out of office.ADVERTISEMENTWho can honestly say for certain what France's François Hollande or Dutch ex-PM Jan Peter Balkenende are doing these days?For others who leave that position of utmost power, though, their tenure as leader is just the beginning of an exciting – or controversial – life or career.In the last week, it's been announced that both Scotland's former premier Nicola Sturgeon and her Finnish counterpart Sanna Marin have taken on new projects ensuring that they'll likely be in the spotlight for years to come.To mark that news, Euronews takes a – non-exhaustive – look at Presidents and Prime Ministers who've managed to make a significant impact long after their time in that particular role has come to an end.Nicola Sturgeon – Scotland"In my head and my heart, I know that time is now." Those were the words used by former Scottish First Minister Nicola Sturgeon when she stepped down from the top job earlier this year.Having spent nearly 9 years in the role, one in which she fought tirelessly for Scottish independence but never managed it, she's been sitting as a backbencher since March.In June she was arrested on suspicion of fraud – and bailed soon after.The second half of 2023 has been far kinder to her, so far.Last month, the former SNP leader announced she was writing a "deeply personal and revealing" memoir about her life and career.This week, Sturgeon has revealed she's launched an "artistic creation" company after signing a lucrative publishing deal for that autobiography.The company, Nicola Sturgeon Ltd, will be used to handle her outside earnings while she continues her work as a backbench MSP.ADVERTISEMENTHer agent Andrew Gordon has previously said that there had been a "hotly contested" nine-way auction for the book. The winning publisher hasn't revealed how much the deal was worth but it's thought to be upwards of €175,000.As was the case throughout her premiership, Sturgeon has already been criticised for focusing too much on her upcoming book and not enough on her constituents in one of the most deprived parts of Glasgow.She will perhaps not get quite as much stick as her predecessor Alex Salmond, who set up his own company back in 2015.Willie Rennie, a Lib Dem MSP, warned Sturgeon not to follow in Salmond's controversial footsteps, saying, "Let's just hope that she handles this artistic company with a good bit more dignity than Alex Salmond, who set up a similar company amid a late-career crisis, to process the money from his job as a chat show host on Kremlin-funded TV".Up until last year, the disgraced former First Minister presented an eponymous programme, The Alex Salmond Show, on RT UK until it folded after the full-scale Russian invasion of Ukraine. ADVERTISEMENTSanna Marin – FinlandLast week, Finland's former Prime Minister Sanna Marin announced she would be leaving parliament to join another former Prime Minister – Tony Blair's – foundation.After taking office in 2019 at the age of 34, making her the world's youngest Prime Minister, Marin was narrowly defeated in April's elections. She stepped down from the leadership of her Social Democrats party earlier this month.Within the Tony Blair Institute for Global Change, a London-based policy think tank headed up by the former British Prime Minister, she has been appointed as strategic advisor.Marin led the country through COVID-19 lockdowns and the ensuing economic turmoil and, more recently, has been a vocal supporter of Ukraine after Russia's invasion, successfully leading Finland to end its military non-alignment in favour of NATO membership.She has previously spoken of the "great honour" of having led Finland's government for three and a half years and has refused to rule out a future return to Finnish politics.ADVERTISEMENTSpeaking about her new engagement, Marin told press: "I feel that this assignment [with the Institute] is such that it will benefit the whole of Finland as well".Nicolas Sarkozy – FranceThe only President on our list, Nicolas Sarkozy, is arguably one of the most controversial of all.He left office as the premier of France in 2012, but has been dogged with controversy ever since.Late last month it was revealed that Sarkozy is to be tried in 2025 over allegations he took money from late Libyan dictator Muammar Gaddafi to fund one of his election campaigns.The trial is set to hear from Sarkozy himself as well as 12 other co-defendants. They're accused of conspiring to take cash from the Libyan leader to illegally fund Sarkozy's victorious 2007 bid for the presidency of France.The 68-year-old denies the charges.Since leaving office, Sarkozy has been convicted twice for corruption and influence-peddling in separate cases involving attempts to influence a judge and campaign financing. He has since appealed against both judgements.The former French leader allegedly enjoyed cordial ties with the late Muammar Gaddafi. The Libyan investigation was sparked by revelations from the investigative website Mediapart which published a document purporting to show that Gaddafi agreed to give Sarkozy up to €50 million.Sarkozy also faces a separate probe into apparent potential influence-peddling after he allegedly received a payment from Russian insurance firm Reso-Garantia of €3m while working as a consultant in 2019Outside of his legal wows, Sarkozy has been making headlines in France following the publishing of a second volume of his memoirs.He's drawn widespread criticism after suggesting that areas of Ukraine occupied by Russia after the Kremlin's invasion last year might need to be recognised as Russian.On Crimea, he claimed the annexed region would remain Russian and that "any return to the way things were before is an illusion".Sarkozy and Vladimir Putin have famously enjoyed friendly relations since the French leader was in power.Jean-Claude Juncker – LuxembourgLuxembourgish politician Jean-Claude Juncker is a recognisable figure the world over – and for good reason.The 68-year-old served as the 21st Prime Minister of Luxembourg from 1995 to 2013 – making him the longest-serving head of any national government in the EU as well one of the longest-serving democratically elected leaders in the world.From 2005, he also became the first permanent President of the Eurogroup, too – a role he held until 2013.His tenure encompassed the height of the European financial and sovereign debt crisis but it wasn't enough to put him off the heady world of high politics.After leaving office in 2013, he was announced as the European People's Party (EPP) had Juncker as its lead candidate, or Spitzenkandidat, for the presidency of the Commission in elections the following year.He was elected by the European Parliament on 15 July 2014, netting 422 votes out of the 729 cast.Taking office on 1 November 2014, he served until 30 November 2019, when he was succeeded by Ursula von der Leyen.Since stepping down from front-line politics, Juncker has all but disappeared from the public eye. He's long been famous – or should that be infamous – for his great love of playing Pinball. We can only assume he's enjoying that pastime since his retirement.Gordon Brown – United KingdomThe former British Prime Minister was not a particularly popular premier. As chancellor under his predecessor, Tony Blair, though, Brown achieved high approval ratings and was hailed as the most successful chancellor in terms of providing economic stability in the country.Following just 3 years in office, he was the last Labour premier before the current 13-year run of Conservative leaders.Since leaving 10 Downing Street, he's been praised for his continuing contribution to politics and those in need since he quit the Commons in 2015.After stepping down as PM in 2010, Brown did the thing that so many former Prime Ministers refuse to do – and returned to the backbenches.He continued to serve as the MP for Kirkcaldy and Cowdenbeath until he gave up his seat in 2015.In the ensuing 8 years, he has made occasional political interventions as well as publishing several political books.In 2014, Brown played a prominent role in the campaign to maintain the union between Scotland and the United Kingdom during that year's Scottish independence referendum. Last year, he wrote a report on devolution for Labour leader – and presumed-Prime-Minister-in-Waiting – Sir Keir Starmer.Brown…